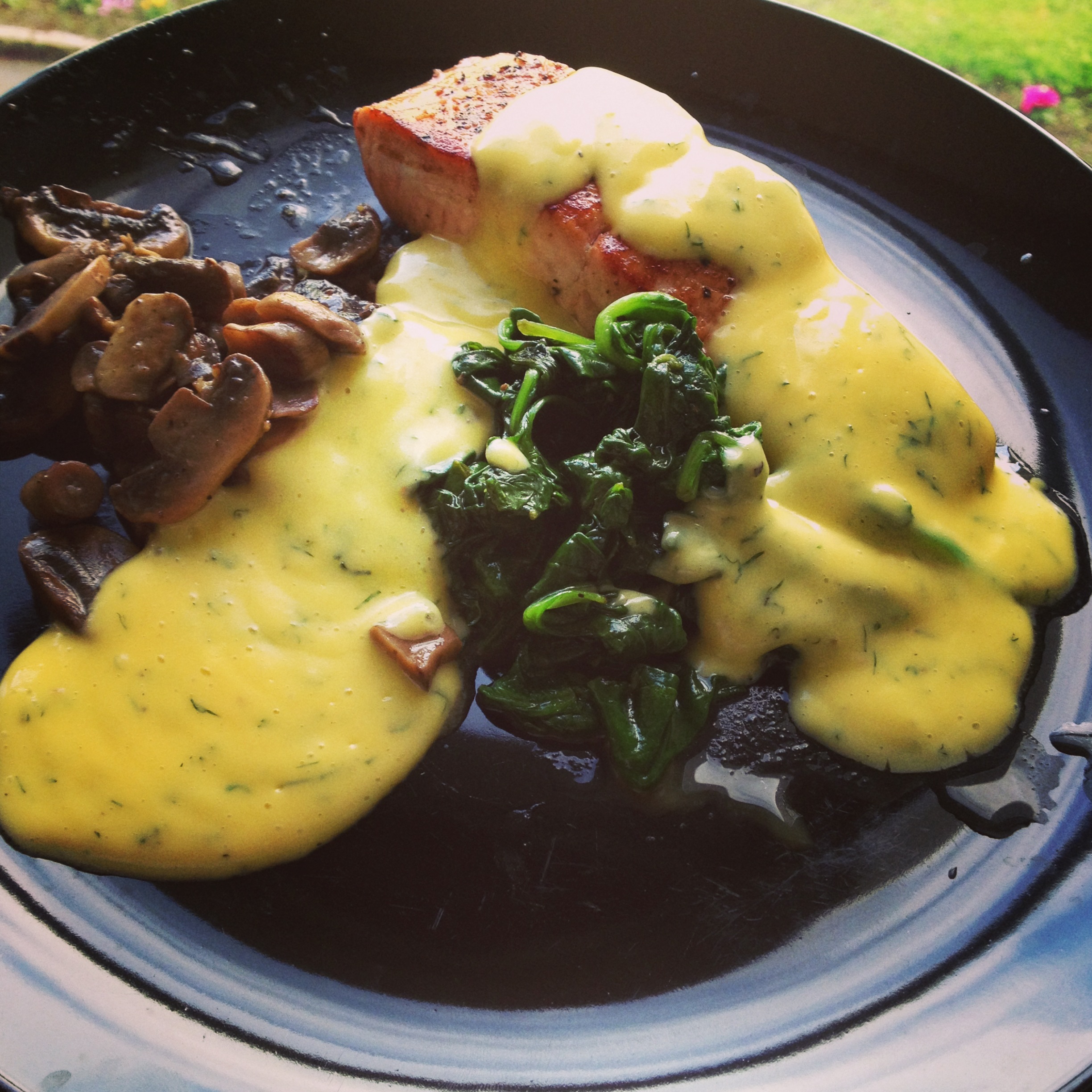 How do you easily make a tasty meal loaded with healthy omega-3 fatty acids? And how do you make it in 12 minutes?
Let's talk salmon baby!
A few days ago I wrote about what I eat for breakfast. If you read that you know that I believe health is one of the four most important things in life and that what you eat significantly affects your health.
But what should you eat for dinner to not only be healthy but to love eating it too?
Before I answer that I need to get something off my chest….
Fish used to give me nightmares!
Yes it's true, I used to like fish as much as I enjoyed cleaning my toilet. Seriously.
I can remember several times when I faked a stomach bug when mum told us the great news: "fish for dinner everyone!".
If you think that was bad think again. My sister was way worse. She used to pretend that she ate the fish our parents made when she was really doing was wrapping it up in tissue paper and throwing it in the garbage!
To this day she claims to be allergic to anything from the sea….
Anyway, over the last few years I've learnt how to make salmon taste good even for someone who isn't naturally a big fish-lover.
That means everyone can do it as I suck at cooking!
Salmon is very healthy and takes 12 minutes to make
Salmon is full of omega-3s (about 2,5 gram pr 100 gram serving), vitamins (especially B3, B6, B12) and minerals (especially phosphorus and selenium).
Luckily, salmon is also dead easy to make and done right it tastes great!
How I made salmon today
I recommend eating about 200g of salmon once a week. Here's what you need to make a nice salmon meal (for 1 person):
200 gram salmon filet (I prefer to buy it without skin)
150 gram spinach
100 gram white mushrooms
This is exactly how I made this salmon dish today

Put the frying pan on high heat and put lots of butter in it (about two spoons)
Chop the mushrooms. I put them all on the chopping board and just hammer my knife all over them! Kristina is not fond of my approach but I'm done in 20 seconds…
Fry the mushrooms for about 3 minutes and add lots of salt and pepper
Put the mushrooms on your plate, then throw another spoon of butter into the frying pan and chuck all the spinach in
Fry the spinach for 2 minutes. While frying it, add salt and pepper to one side of the salmon
Put the spinach on your plate, then throw another 2 spoons of butter into the frying pan and put the salmon with the salt & pepper side down in too
Fry the salmon for about 3 minutes. Put salt & pepper on the top of the salmon
Turn the salmon over and fry it for another three minutes
Jump up and down three times while shouting "I'm a saaaaaalmoooon!"
Eat and enjoy
I don't know about you but in my opinion cooking doesn't get much easier than that!
If you're more of a chef than I am you might want to make a sauce. Kristina made Hollandais sauce for us today which was nice but that definitely isn't required.
And that's it! There's nothing more to it :)
What I want you to do
Start tomorrow by making sure you have the required foods.
Then make this dinner for yourself and your family. If you make the salmon like this your kids will not fake a stomach bug or throw what you made in the garbage!
Love from Oslo,
Bjarte