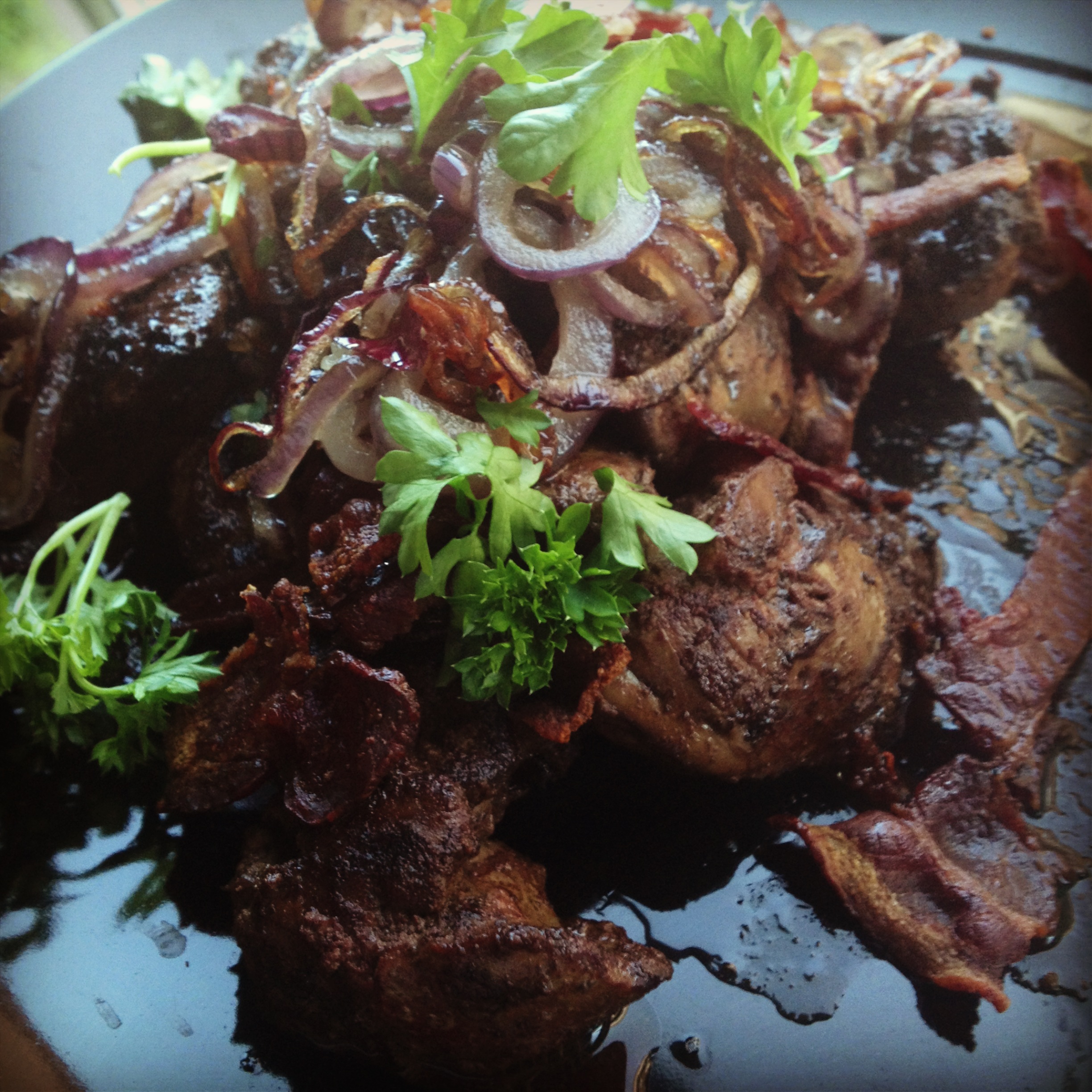 Liver is the ultimate superfood.
Fruits & vegetables for example are, compared to liver, about as healthy as Snickers bars!
But, is it possible to make liver taste delicious? Absolutely, and here's how.
Liver is between 10 and 100 times more nutritious than muscle meat. Check out the amazing nutrients of lamb liver for example. If you are looking for superfood for dinner, look no further!
Unfortunately, the taste of is not for everyone. I think it is only my mother who really likes liver in my family, the rest would rather go hungry…
I myself was never a fan but I couldn't ignore the facts: Liver is a superfood like no other. So, I searched high and low for a recipie that would make liver go down more easily.
Just when I had given up hope, there it was. In one of my cooking books from Nigella Lawson was the recipe that would change my relationship with liver forever.
How to make tasty liver
What you need (serves two):
450 grams of liver ; cut in thin slices
One red union
Garlic
Balsamic vinegar
Water
Bacon
Whatever vegetables you want. I prefer sweet potato and broccoli or just a plain salad
How to make it:

Put the oven on 200 degrees celsius.
Place six slices of bacon on a baking sheet and place it high in the oven. Bake until crisp.
Cut the onion in thin slices and fry it in a pan with butter and garlic until it is soft and a bit crisp. Set the union aside.
Rinse the liver of blood and make sure that it is dry.
Use the fat from the bacon to fry the liver. Put it in the pan and fry the liver 1.5 minute on each side. Set aside to rest.
Put two table spoons of water and two table spoons of balsamic vinegar in the pan and cook until it is like syrup.
Put liver on a plate with syrup, union and bacon on top. Serve with salad or vegetables
And that's all there is to it. Enjoy a delicious superfood-dinner!
Cheers from Kristina & Bjarte
Here are a a few other quick & healthy dishes we recommend:
P.S. One of our favourite bloggers, Chris Kresser, loves liver too.